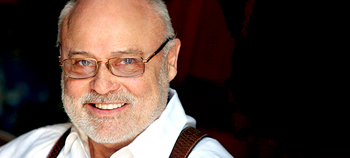 DAS HIGHLIGHT DES JAHRES!
GESANGS WORKSHOP MIT STAR VOCAL COACH SETH RIGGS AM 13. JULY IN KÖLN.
Am 13. July 2015  findet in Köln ein Workshopereignis der Extraklasse statt. Seth Riggs - Der erfolgreichste Vocal Coach der Welt, kommt für einen Vocalpower Masterclass Gaststarworkshop nach Köln.
---
In the middle of his concert at the famous Forum in Los Angeles, superstar Stevie Wonder stopped the show to acknowledge, in front of thousands of fans, a man who has had much to do with the success and longevity of his vocal career. He wasn't referring to his manager or record producer. He was referring to Seth Riggs - his voice teacher. Seth Riggs is considered by many to be the best and most successful voice teacher in the world. He is certainly the busiest. No other teacher, past or present, has ever matched his phenomenal track record. His students are a veritable "Who's Who" of singers, actors, dancers, and entertainers throughout the world.
Seth Riggs's vocal technique and the methods he uses to teach the technique were forged and tempered by the fierce demands placed on the world's top performers, who must often perform several shows a night - night after night! A great deal of money is always at stake, so his clients' voices must be able to function easily, without strain. It is no wonder that whenever singers come to Los Angeles from other parts of the world, producers, directors and fellow performers send them to see this master vocal technician.
---
Die Workshopteilnehmer bekommen hier die einmalige Möglichkeit eine 4-Stündige Masterclass mit dem Vocal Coach der Stars u.a. (Michael Jackson, Stevie Wonder, Michael Bolton, Madonna, Wopie Goldberg, Barbara Streisand, Nicole Kidman, Bobby Kimball, Prince und unzähligen mehr) und Erfinder einer der erfolgreichsten Gesangstechniken der Welt, (SLS) Speech Level Singing, zu besuchen.
Mit dieser Technik singt heute das "Who ist Who" der absoluten Weltelite. Kein Wunder also, dass Seth der einzige Vocal Coach auf der Welt ist, dessen Schüler bis heute mehr als 120 Grammy Awards gewonnen haben.
Dieser Workshop ist also in jeder Hinsicht ein Highlight. Abgesehen davon, dass Seth nur noch wenige Workshops gibt, ist es auch sonst nahezu unmöglich einen Unterrichtstermin bei dem Star Coach aus Beverly Hills (Stundensatz 500,- $) zu bekommen.
Außerdem gibt es einige "Active Tickets". Mit diesen Teilnehmern wird Seth wähend der Masterclass arbeiten und seine Technik demonstrieren. (AUSGEBUCHT)
Der Besuch der Masterclass ist insgesamt auf 50 Zuhörer beschränkt. Hier sollte man wirklich keine Zeit verlieren mit der Anmeldung.
Location:
Music Academy Köln Süd
Rock & Jazz School
Bayenthalgürtel 4
D-50968 Köln
Der Workshop beginnt um 11:00 Uhr und endet um ca. 15:00 Uhr.
Der Workshop findet auf englisch statt.
AUSGEBUCHT!